What's Your Flavor of STEM?
If you have ever said "I wonder how that works" or, "I can make this work better," you would fit well in one of the STEM (Science, Technology, Engineering, and Math) professions. Logically there is probably a good reason for this. Dustless Technologies/Merit3D in Price Utah is taking great steps to capture this passion.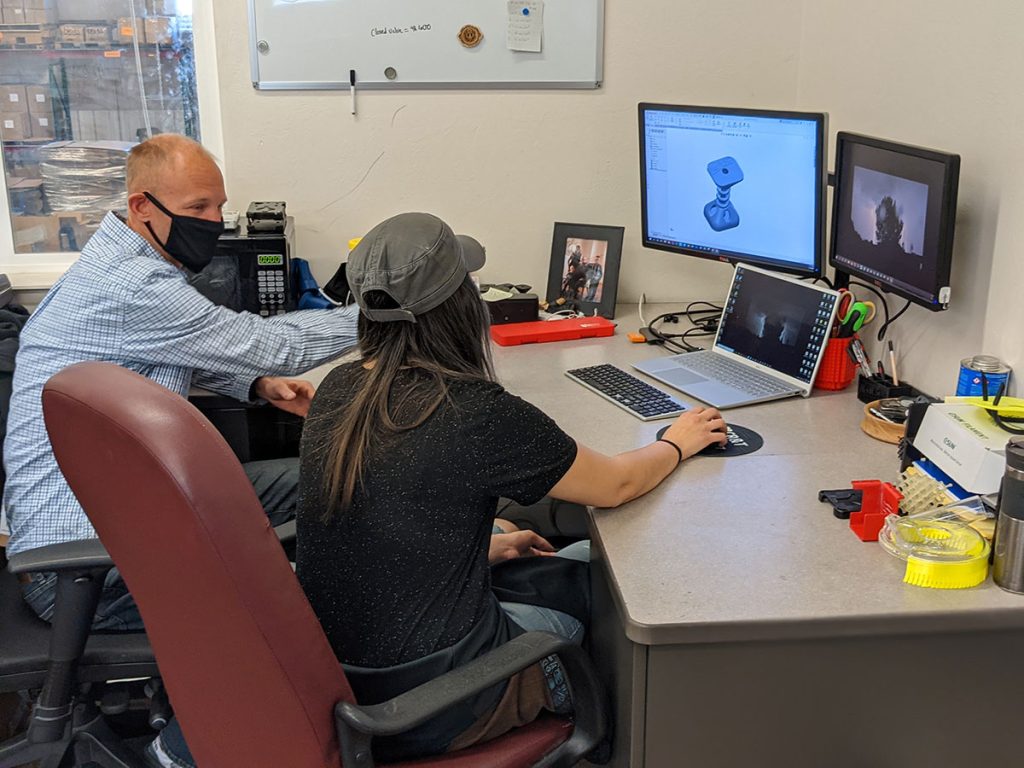 Part of this change is working closely with Carbon County high schools and Utah State University Eastern to give students the opportunity to see what a STEM career looks like firsthand. For example, Lizabeth Pugliese who has been interning at Dustless for a year and a half now learned about the internship from her CAD teacher at Carbon High. She said, "I love making things and working with my hands, but I found a real passion for CAD through Elias Perez's classes." In fact, her classmates say she's the one they go to when they have problems with the CAD program. She continues, "I love the mechanical aspects of things and like to understand their inner-workings."
Lizabeth is a good example of someone who loves to work with her hands. She has learned not only how to tear apart and put things together, but plan out and design parts that actually are used in mechanical tools and equipment sold on the retail market.
We all have our own personality which plays a major role in what we want to be when we grow up and it is critical to understand how this plays into our education and career choices. We also must understand our learning style which is related to our personalities.
In every personality test, you will find a core of 4 personality types. For purposes of STEM discussion, we will call the types 1 – Innovator, 2 – Equalizer, 3 – Developer, 4 – Definer. Keep in mind, each person may exhibit traits of multiple roles and each of these roles are essential to a well rounded innovation team.
Innovators are outgoing and people oriented. In STEM they are the idea generators. While these ideas may range from horrible to groundbreaking, an innovator often thinks "outside the box, a valuable trait in STEM. Careers for innovators include Entrepreneurs, Research and Development, Team Leaders, etc. Our CEO Spencer Loveless is a quintessential innovator.


Equalizers are people-oriented and more reserved. They are the ones who see all sides of a story, value every member of the team, and help others feel included. They are detail oriented and have the ability to see the beginning from the end. They often have a hard time making difficult decisions though, because hard choices can make things less equal. Ideal jobs for equalizers are Product Managers, HR, trainers, counselors, and inspectors.


Developers are outgoing and task-oriented. Their greatest strength is action. They like being in charge because they like to see things happen. However, they must be paired with someone with patience in the process who sees the needs of the team, such as an equalizer or definer. Roles for developers might include Project Manager, Foreman, Leader, and Teacher/Trainer.


Definers are reserved and task oriented. They put their nose to the grindstone and work until the project is finished. They are extremely detail oriented and organized. Definers won't let a product be released without knowing it is ready. As hard as it is, these personalities need the innovator and the leader to help them see beyond the scope and take risks. Jobs for Definers include Engineer, Programmer, Accountant, Scientist, and HR.
Giving students opportunities to not only learn about jobs in STEM, but experience them in a hands-on internship in a real technology environment will be invaluable to our youth. It will lead them into the future equipped with a toolbox to thrive in an ever-changing technological world. Dustless Technologies/Merit3D is committed to giving these opportunities to our children. Jeremiah, another high school intern said, "I really enjoy my internship at Merit3D…Engineering is how we build the future. Science is the discovery of something, but engineering is taking that discovery and using it to better the world."