Rural Utah Company Merit3D Brings 3D Printed Cast Capabilities to Western United States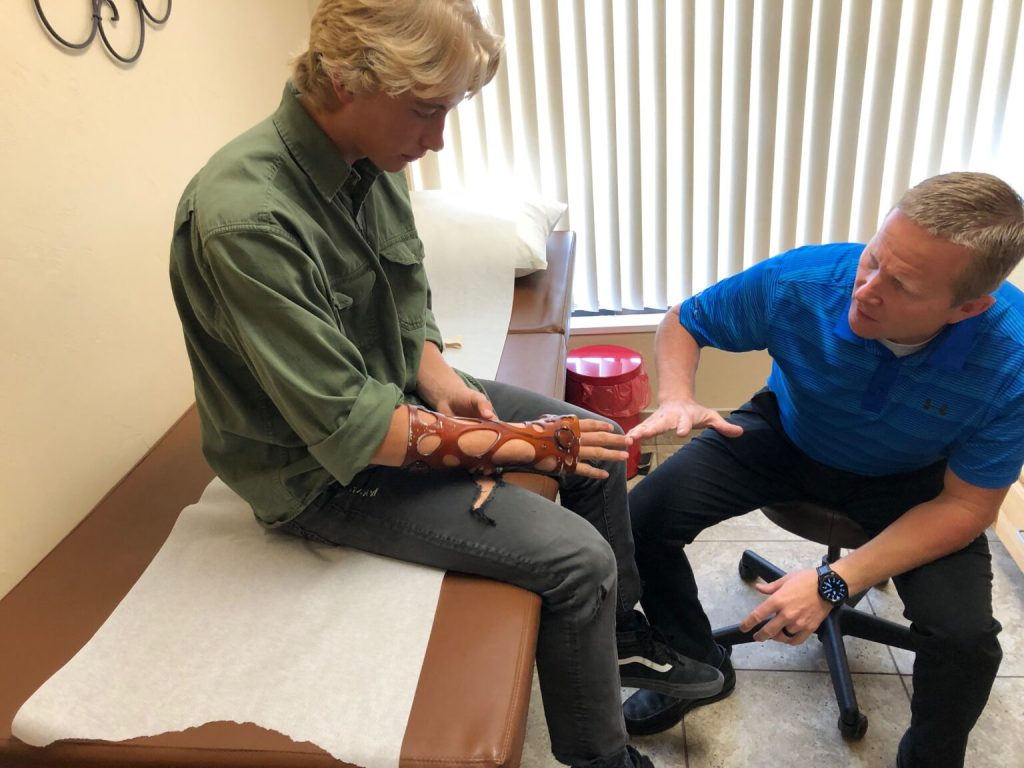 Written by Trenton Willson 
The advent of 3D printing is disrupting the $12 trillion manufacturing industry worldwide. It spans any and all industries that need manufacturing, including the medical field. In medicine, this revolutionary technology aids teaching through 3D printed models, procedural processes through medical instruments, and is even used for artificial implants. Orthopedics is another sector in the medical field benefiting from 3D printing and Merit3D is bringing this new advancement to rural Utah through the use of 3D printed casts. 
"Improvement in scanning technology for tablets and phones has allowed doctors and nurses to carry the scanning equipment in their pocket and within a day or two, patients are wearing a light-weight, breathable cast that fits the contours of their own arm," said Spencer Loveless, CEO of Merit3D.  "We are excited to bring this new technology to the state of Utah." 
Craig's Story 
Craig (pictured above) is a student at Carbon High school who loves mountain biking, hiking, and playing football. During a football game, Craig found himself falling to the ground on the underside of a 250-pound opponent and he immediately knew something was wrong with his hand.  
Dr. Kelly Jensen, an orthopedic surgeon at High Desert Orthopedics in Price, UT examined Craig and determined that he had a broken thumb and a torn ligament. It was decided that he would need surgery and a pin to fix it. Dr. Jensen operated on him and a few days later decided to try the 3D printed cast instead of a plaster cast.   
A digital file of Craig's arm was created using the scanning technology of Merit3D.  A cast was printed and ready for Craig's arm within a few days. Unfortunately, because of the ½" metal pin sticking out of his thumb, the decision was made to apply a traditional cast for a couple of weeks until the pin could be removed and the 3D cast could possibly be placed on his arm once more.  
"I loved it!" stated Craig. "When I took it to school the kids couldn't believe it was 3D printed. It felt comfortable too."  
Sam's Story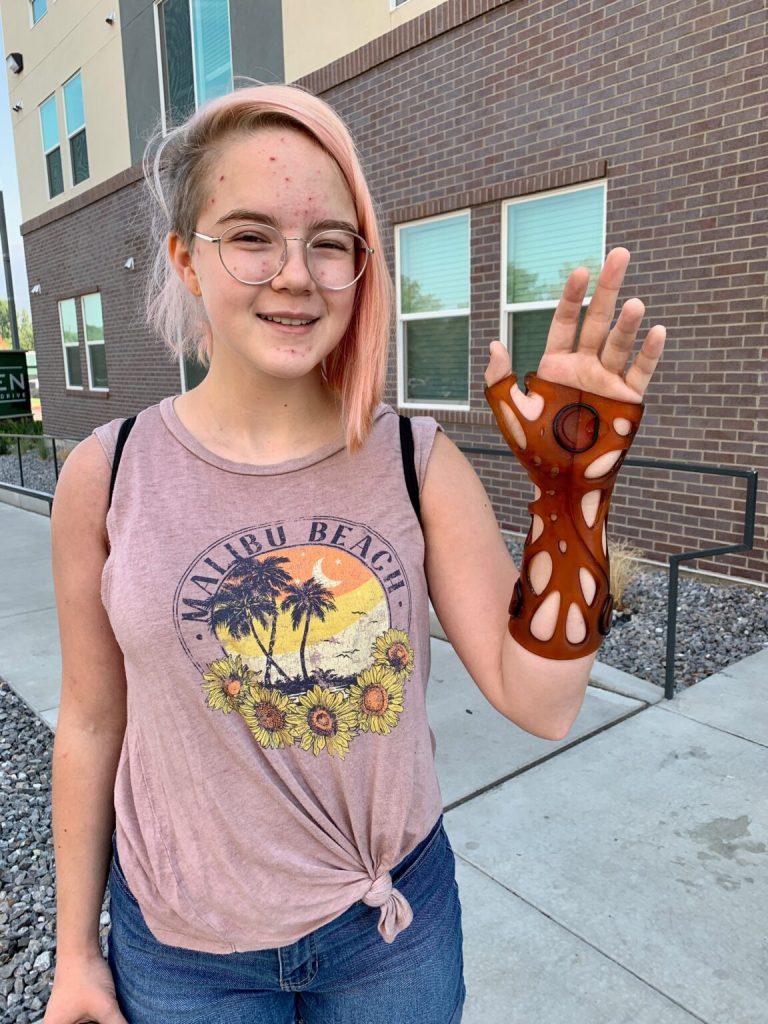 Sam is a student at Utah Valley University who is very active in her technical design theater classes and backstage jobs. While riding her electric scooter last August, Sam hit a bump and instinctively extended her arm to catch herself as she fell to the ground. A trip to the hospital and an evaluation from Dr. Campbell determined a fractured wrist.  
Sam and her mom wondered if there was a better option to the traditional plaster casts applied in hospitals today. Sam's mom was familiar with Merit3D's advancements in 3D printing as well as the advancements of Exiom and Xkelet in orthopedic bracing by using 3D scanning technology. After a discussion with Dr. Campbell, he was more than willing to scan Sam's arm with the equipment from Merit3D to create a digital file that was used to print a cast that was an exact fit for Sam's arm.  
"This is more stable than the previous splint that I had on," Sam said. "And it feels really good!" Sam also reported that this type of cast allowed her to continue to participate fully in her hands-on classes and backstage responsibilities at the theater because of the stability, maneuverability and lower profile that the 3D printed cast provided.
"The doctors we have talked with are all amazed at how easy the process is, and are excited to see how emerging 3D print technologies are being used to create more versatile forms of orthopedic bracing and a better quality of life for patients," said Loveless. 
Another doctor in the Southeastern Utah area that is excited to offer the Merit3D cast is Orthopedic Doctor Scott Justesen.  
Printed casts from Merit3D are made with biocompatible materials using proprietary scanning and modeling software. An internationally recognized chemical company, BASF, supplies Merit3D with the material to print the casts. Michael Tang, BASF's Business Development Manager explained, "Ultracur3D® EPD 2006 is a novel and versatile Daylight resin designed to work with Photocentric's Magna-Series printer. Its proven biocompatibility makes it an ideal candidate to fulfill the rigorous skin-contact requirements of the cast application. At the same time, its high mechanical performance, combined with enabling price, opens the door to easy scale-up and fast implementation." 
He adds, "The work of Merit3D can not only enable many patients, especially children, to get rid of smelly and itchy plaster casts, it can be cleaned easier than a waterproof or plaster cast and removed in a much simpler way with a locking mechanism. The empowerment this approach provides to telemedicine applications is an additional bonus aspect, becoming especially relevant in the pandemic times." 
Located in Price, UT, Merit3D has multiple Photocentric Magna-Series 3D printers giving them the capability to print thousands of parts each day. These parts range from phone cases, binocular clips, shrouds for power tools, promotional pens, and now, customized medical braces.