Merit3D Printed Products to Retail Shelves
Merit3D Partners with Many to Supply 1st Ever 3D Printed Products to Hit Mass Retail Shelves
"This is a total market disruptor" comments Spencer Loveless CEO of Dustless Technologies and Merit3D. "And it wouldn't have been possible without so many working together to supply great products at a mass scale." Two separate consumer-ready 3D-printed products have been produced and are now being supplied by mass retailers across the US and Canada. The first product belongs to Phone Skope, a brand that designs smartphone digiscope adapters. The second belongs to Dustless Technologies who has now added a dust collection shroud for demolition hammers to their product line.
Dustless Technologies is a small manufacturer located in Price, Utah. They've been innovating products for the construction industry for over 35 years. Historically, they've relied on traditional manufacturing methods such as stamping and injection molds to produce their products. For Dustless, these methods have been expensive, timely and less agile than what's optimal for innovating new solutions. Partnering with Adaptive3D, Dustless Technologies has produced their first 3D printed product, the DustBuddie for Demo Hammers. This product not only provides an effective solution for end users, but proved that additive manufacturing could effectively compete with traditional methods.
Phone Skope, located in Beaver, Utah, faces similar challenges when producing their products. Their customers are supplied with a case that fits their phone, and an adapter that fits their specific optic device (telescope, microscope, monocular, etc). While Phone Skope also relies on traditional manufacturing for their products, they've been unable to gain complete coverage for phone-case offerings because of up-front costs. That is until partnering with Merit3D. Phone Skope loves working with Merit3D and their engineers to print the variety of cases that they need in the quantities that they need. "This is freaking awesome," said Jason Bairett, Operations Manager at Phone Skope. "This is a total game changer for us."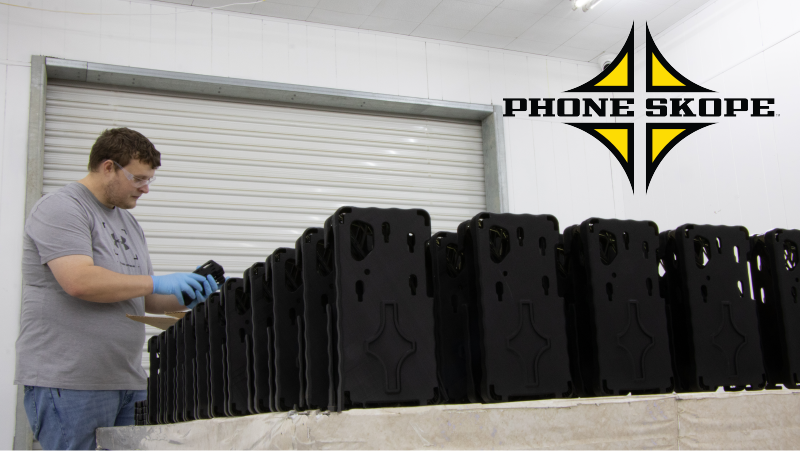 Aside from the lack of agility and the upfront costs of traditional manufacturing, both companies faced that much of their product supply was also sourced overseas. Overseas inventory brings its own set of issues such as tariffs, inventory forecasts for lengths up to 9-12 months, and in recent news, boats stuck in canals. Through Merit3D, both companies found solutions to speed up their time to market and product offerings. They also found advantages to being able to order as few of products as 1-10 or as many as thousands as needed to ramp up production. All these being able to be produced in a matter of days instead of months or even years.
Three companies teamed up to make this possible. Merit3D (Utah), Adaptive3D (Texas) and Photocentric (USA/UK). Merit3D started from the need from many manufacturers to find a better way to produce quality plastic parts locally. Adaptive3D is the supplier of the rubber like material used to create their Dust Buddie for Demo hammers which collects dust made while using jack hammers. "We were thrilled to see that Elastic ToughRubber™ material withstood the abuse of the construction environment" commented Jay Murray from Adaptive3D. Photocentric was another key part in this as they supply the Duramax resin printed on the Magna printers. "'Photocentric's LC Magna 3D printer was the perfect production partner. Offering speed, volume and cost advantages, the LC Magna can produce production volumes rapidly and reliably. The LC Magna ensured that Merit3D was able to create retail ready parts in a matter of days. The choice of resin was also instrumental in the success of this project. Our Duramax material was selected as it has similar properties to ABS and we thought it would be perfect for a phone case that gets handled, dropped and sat on daily." Said Paul Anfinson CEO of Photocentric USA.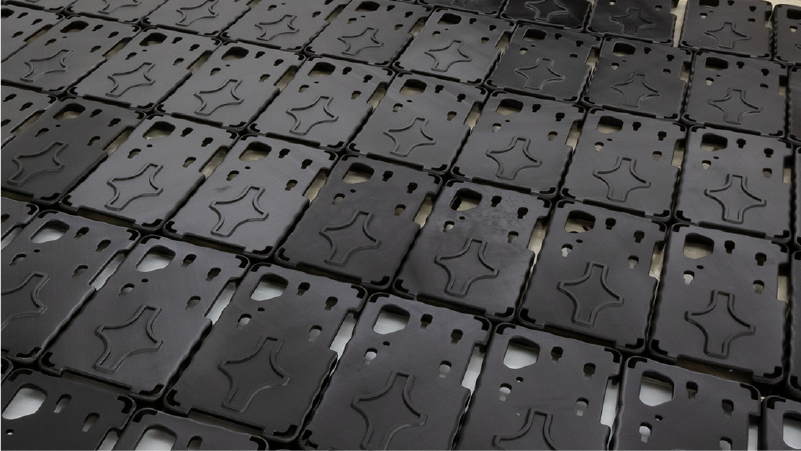 The state of Utah is very supportive of the progress that has been made to build rural Utah. Stephen Lisonbee, Senior Advisor to Gov. Spencer Cox said,
"This is the ideal example of Utah's rural entrepreneurial spirit where you see partnerships and innovation happening! This is making all of the right impacts by allowing people to work where they live. This is creating jobs in rural Utah and bringing manufacturing back to America. I am very excited for the things happening with these Utah companies." In addition to representatives within Utah's own government, the success of these products has generated excitement among other manufacturing leaders within the state. Todd R. Bingham, President/CEO Utah Manufacturers Association said "I love seeing success stories from within Utah. This has the potential to revolutionize our supply chains for many components. Nice work!"
Merit3D is continuing to expand their offering and supplying additive manufactured parts for mass production to manufacturers. For more information you can visit www.merit3d.com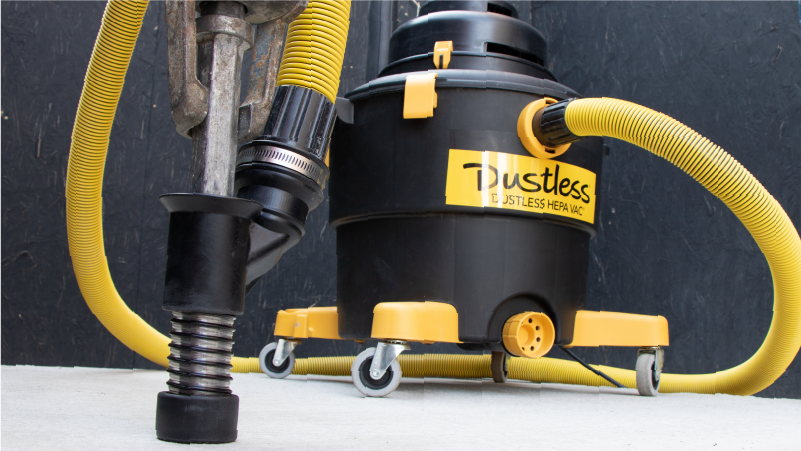 PARTNERS BIOS:
Dustless Technologies is an innovator in the dust collection industry. They manufacture professional grade wet/dry vacuums as well as point of origin dust collection shrouds. Dustless is based out of Price, Utah and sells their products through many different retail outlets. They are one of the last companies to make a wet/dry vac in the USA still.
Merit3D is a manufacturing service provider also based in Price, Utah. They focus on supplying other manufacturers components via additive manufacturing processes. They continue to bring manufacturing back to America through advanced manufacturing methods. The can 3D print hundreds to hundreds of thousands of components through new and innovative developments. If you have parts in projects that you want to skip injection molding, skip overseas suppliers and skip long development times please reach out to them.
Phone Skope is focused on creating products that outdoorsman can use to take photographs with their smart phone and high quality optics. They have products for spotting scopes, microscopes, and other optic devices. They design products that will fit any smartphone and connect to any optic. Phone skope sells their products through many different mass retailers throughout the world.
Photocentric is a UK/USA based company and are leading innovators in 3D LCD printing. They have equipment as well as materials to meet the demands of manufacturers in industry. They are innovating in many different industries and finding ways to bring mass production through additive manufacturing.
Adaptive3D is the leader in elastomeric solutions for Additive Manufacturing.  The company has a mission to enable high volume additive manufacturing through optimized materials. Adaptive3D offers leading additive manufacturing polymer resins and specialty polymers to a range of industries around the world in consumer, healthcare, industrial, transportation and oil and gas sectors. The company leads in printing and processing rubber-like materials, tough damping materials, and low-cure stress photopolymers. The deeply technical company has developed a patent portfolio based on fundamental materials processing, some of which has been translated from the University of Texas at Dallas and is based on the team's past funding from the Defense Advanced Research Projects Agency, the Defense Threat Reduction Agency and the National Science Foundation.
PARTNERSHIP STRUCTURE: