1 Million Part Additive Manufacturing Order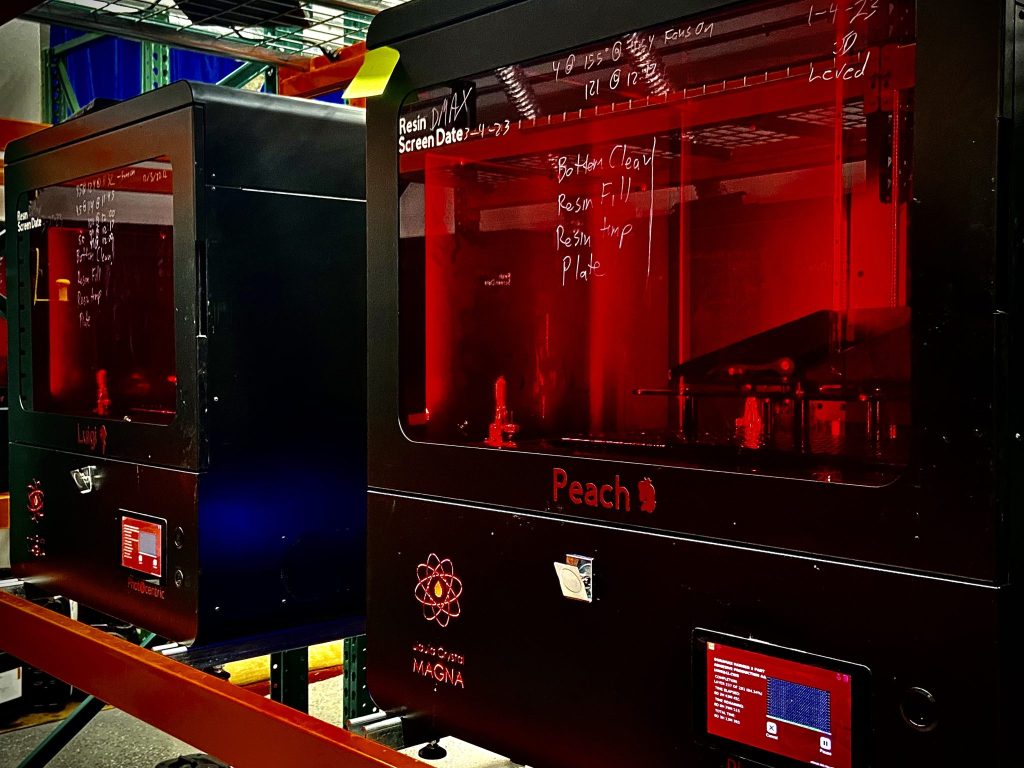 Carbon County, Utah – May 22, 2023 – Merit3D was one of many recipients of the Utah Manufacturing Modernization Grant which aimed to bring manufacturing back home to the US, and more specifically, to Utah. This grant enabled what could be the largest order of 3D printed parts.
"The $10 million Utah Manufacturing Modernization Grant incentivizes Utah businesses to modernize, establish, relocate, retain, or develop manufacturing in the state. Its goal is to modernize Utah companies' manufacturing, increase supply chain resilience, and lessen American dependence on foreign manufacturing." (https://business.utah.gov/manufacturing-modernization-grant/)
Merit3D is a company using additive manufacturing (3D Printing) to do mass production. Earlier last year, Merit3D applied for and received funds to purchase automation equipment that enhanced their additive manufacturing flow process. These funds were used to purchase robots as well as other automation equipment used in their 3D printing process. This automation paired with many of their Photocentric Magna printers, was a great match. Merit3D has steadily advanced their mass production processes and expanded their capacity, but has always had to compete with Asian manufacturers on cost and the ability to produce in mass with injection molding. The influx of funds from the Manufacturing Modernization Grant significantly narrowed that gap by increasing the capacity of how many parts can be manufactured additively at an affordable price. This allowed Merit3D to compete with injection molding producers and, more importantly, compete with overseas manufacturers. Spencer Loveless, owner of Merit3D said, "It's always very hard competing overseas because of the low cost of manufacturing, but now that we were able to invest in high tech equipment, we've taken a giant step forward in leveling the playing field!"
As Merit3D was evaluating different advanced methods of improving their manufacturing process, they were in negotiations with Adhesive Technologies about a potential project that they wanted to produce in the United States.
•Product moved from Design to Production in 2 Weeks
•Client Re-shored Production; Bypassing The use of Molds Overseas
•First Order Exceeded 1 Million pieces
•Product Exceeds durability of HPDE equivalent
A hanger for epoxy products is a device or component used to attach the mixing nozzle to the epoxy tube. Merit3D is printing 40,000 of this part per week.
The labor costs for overseas suppliers is so inexpensive and without some of the automation and process improvements that Merit3D implemented, it would have been impossible to be able to re-shore this project back to the US at a reasonable cost.
The design team worked diligently to create a quality part which was within the target cost to allow Adhesive Technologies to feel ready to place possibly the largest order ever of over 1 Million 3D printed parts. "This is a huge stride in the modernization of manufacturing and converting companies that traditionally do manufac- turing overseas to be able to bring it back on the US shore using new technologies," said Blake Merrell, COO of Merit3D. "This part is used in epoxy applications all around the world. It is sold in every hardware store across the country including Lowes and Home Depot. We are turning the corner in the manufacturing era and we love being a driving factor to help."
This massive order really sets the precedent for how parts are made. Traditionally, any order of 50,000-250,000 pieces must be done with injection molding, but now, companies around the world are looking to 3D printing to give them the advantage over the competition. It especially helps when a company wants to take their manufacturing and design to the next level, reaching a whole new level in advanced manufacturing.
The added benefit of using Additive Manufacturing is that 3D printed parts can be made on demand, with limitless design opportunities, and without the added cost and time associated with overseas shipping. For example, the first 50,000 pieces of this order were one design. The next 100,000 pieces were an improved design and after 500,000 pieces they plan on releasing yet another improvement. This is not possible by using traditional injection molding, and all of the development and improvements are accomplished within a few months. Lean manufacturing can be achieved with regular production runs, which Merit3D has been able to invest in the capacity to do. Thanks to the recent additions from the state grant, they have stepped into the next level of reshoring mass produced parts.
Companies no longer need to order all at once, wait for the whole order to be molded, produced, shipped, and they won't have to warehouse the entire inventory either. This order of 1 million pieces is being delivered 40,000 pieces per week as per the customer's requirements. Spencer states, "This is huge because no longer do they have to order millions of parts at a time and wait for long lead times to be able to get their parts. The needed parts can come using a just in time manufacturing model."
Merit3D is grateful to the State of Utah and the legislators for appropriating these funds to bring manufactur- ing back to America. Programs and resources such as the Manufacturing Modernization Grant will not only stimulate our economy, but will provide jobs and efficiency in manufacturing and supply chain management. Merit3D just released an online quoting tool designed for giving the customer estimates instantly. This is available for any STL 3D file and the customer can see their prices instantly. Go to merit3d.com for more information.
For companies seeking to explore additive manufacturing for mass production purposes, Merit3D invites them to visit their website, merit3d.com, and utilize the instant estimating tool with their 3D file, or reach out for other options for mass production.
Media Contact:
Landen Hardy
435-630-8269
landen.hardy@merit3d.com